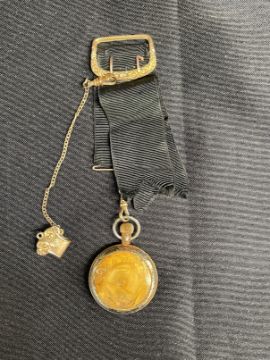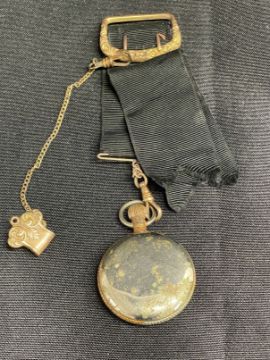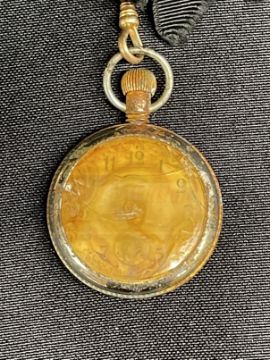 Click on the image to see full size
Use mouse wheel or two fingers to zoom in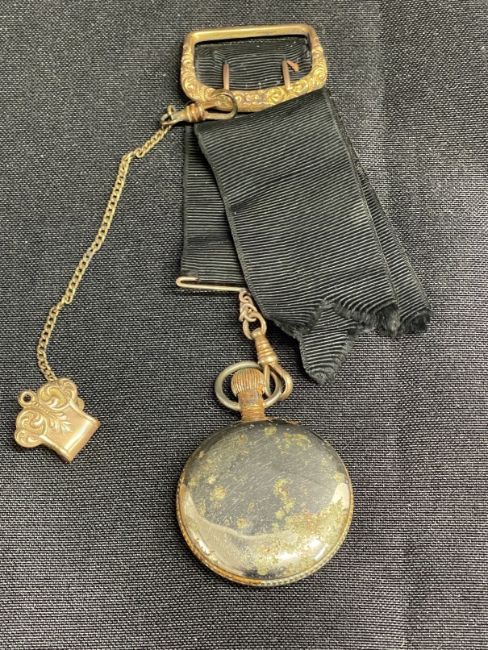 Live auction
Lot closed
Lot location
Devizes, Wiltshire
R.M.S. TITANIC: Postal clerk Oscar Scott Woody's gilt Ingersoll pocket watch with black ribbon fob, charm and yellow metal watch chain that he was wearing when Titanic hit the iceberg and sank, the watch is frozen in time capturing the moment Oscar went into the cold North Atlantic. The watch was recovered along with his other personal effects and returned to his wife Leila in May 1912. It has been exhibited in some of the most prestigious museums globally including The Smithsonian Postal Museum, Ronald Reagan Presidential Library and Titanic Museum Attraction USA. Oscar Woody was one of the heroes of the disaster, ironically April 14th 1912 was to be his forty-fourth birthday and the postal clerks were celebrating this in their private dining room when Titanic crashed into the iceberg. Realizing that something was terribly wrong, they rushed to the mail sorting room and found the starboard hold already beginning to flood. Beginning with the registered mail, they began hauling mail sacks to the upper decks. John Richard Jago Smith was dispatched to the bridge to report on conditions, but his report only confirmed what Captain Edward J. Smith already knew: Titanic was sinking.
Mail was considered a precious cargo. Steamship companies and the postal system went to great lengths to ensure its safety. Sea postal clerks were expected to protect the mail and during Titanic's final hours the five clerks onboard tried desperately to save the mail and, in the process, probably forfeited any chance they may have had to escape the doomed liner. Oscar Scott Woody was a native of Roxboro, North Carolina and had 15 years' experience with the Railway Mail Service before joining the Sea Post Service. Sea post clerks were highly skilled and respected postal workers who sorted, cancelled and redistributed the mail in transit. Most were selected from the ranks of the Railway Mail Service or the Foreign Mail Section. Regarded as the Elite these men typically sorted more than 60,000 letters a day, being renowned for their expertise. Their hard work and efficiency allowed the mail to be delivered immediately or forwarded directly to other destinations at the end of a voyage. Titanic had five sea post clerks aboard: three Americans and two British.
On April 9, 1912 two of the postal clerks John March and William Gwinn toured their new ship and found much to like. Titanic's mail sorting room was far superior to any they had ever worked in before. Most mail sorting rooms of the time were far removed from where the mailbags were stored, often relegated to a cramped and poorly ventilated space. The mailbag storage compartment aboard Titanic, however, was conveniently located directly below the mail sorting room. However the clerks objected to their sleeping and meal arrangements among the Third-Class passengers and secured alternate accommodations and permission to dine in a private area.
In all approximately 3,364 mailbags were brought aboard Titanic at three points - at its embarkation port at Southampton, England (1,758 bags); at Cherbourg, France (1,412 bags); and at Queenstown, Ireland (194 sacks) - before the ship headed for its final destination of New York City. Before sailing, the clerks carried out the routine tasks of checking the mail sacks and storing those that did not require their attention during the voyage. As Titanic set sail, the five postal workers began sorting the mail, distributing letters and packages into mailbags according to their final destination. Their goal was to dispatch Titanic's mail immediately upon arrival at the Quarantine Station in New York Bay, where all incoming ships were detained for health inspection purposes.
None of Titanic's postal clerks survived the sinking. Only the bodies of Oscar Scott Woody and John Starr March were recovered from the wreck site, Oscar being buried at sea on April 24th 1912. This watch represents one of the most iconic and important pieces of Titanic memorabilia offered for auction in recent years.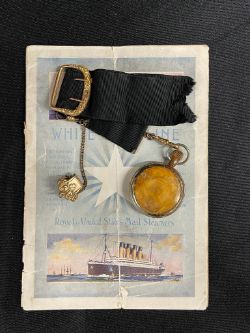 Venue address
Unit 1
Bath Road Business Centre
Bath Road
Devizes, Wiltshire
SN10 1XA
United Kingdom
Auction of Titanic, White Star and Transport Memorabilia
PLEASE NOTE: EARLIER START TIME OF 12NOON.
To ensure you pay the 3% plus VAT online comission fee please make sure you do the following:
1. Login to your Saleroom account via our website.
2. Click register for this auction whilst still on our site, where you register for the auction determines the internet comission rate you pay.


PLEASE NOTE: If you register for the auction via the Saleroom.com and bid through our platform you will pay Saleroom comission rates!
Auction dates
Nov 19, 2022 12:00 PM GMT
Viewing dates
Nov 15, 2022 10:00 AM - 04:00 PM GMT
Nov 16, 2022 10:00 AM - 04:00 PM GMT
Nov 17, 2022 10:00 AM - 04:00 PM GMT
Nov 18, 2022 10:00 AM - 04:00 PM GMT
| | |
| --- | --- |
| Auction currency | GBP |
| Accepted cards | |
COLLECTIONS: We will operate a click and collect system by appointment from our car park in line with goverment guidance.
POSTAGE AND PACKING SERVICES:
Mailboxes in Chippenham 01249 446141 info@mbechippenham.co.uk and Westbrook Packing 01380 859486 info@westbrookpacking.uk. Please note we will operate a click and collect system by appointment from our car park in line with goverment guidance.
These Conditions of Sale and Business constitute the contract between Henry Aldridge and Son Limited (the "Auctioneer") and the seller, on the one hand, and the buyer on the other. By bidding at the auction, you agree to be bound by these terms.
Conditions of Sale for Buyers
These Conditions of Sale and Business constitute the contract between Henry Aldridge and Son Limited (the "Auctioneer") and the seller, on the one hand, and the buyer on the other. By bidding at the auction, you agree to be bound by these terms.
INFORMATION FOR BUYERS
1. Introduction. The following informative notes are intended to assist Buyers, particularly those inexperienced or new to our salerooms. All sales are conducted on our printed Conditions of Sale which are readily available for inspection and normally accompany catalogues. Our staff will be happy to help you if there is anything you do not fully understand.
2. Agency. As auctioneers we usually contract as agents for the seller whose identity, for reasons of confidentiality, is not normally disclosed. Accordingly if you buy your primary contract is with the seller.
3. Estimates. Estimates are designed to help buyers gauge what sort of sum might be involved for the purchase of a particular lot. The lower estimate may represent the reserve price and certainly will not be below it. Estimates do not include the Buyer's Premium or VAT (where chargeable). Estimates are prepared some time before the sale and may be altered by announcement before the sale. They are in no sense definitive.
4. Buyer's Premium. The buyer agrees to pay a buyer's premium on the hammer price of each lot purchased. The buyer's premium is 22% of the hammer price up to and including £500,000, 15% of the hammer price from £500,001 up to and including £1,000,000, and 10% of the hammer price in excess of £1,000,001. VAT at the prevailing rate of 20% is added to buyer's premium and additional charges as defined below.
5. VAT. (*) indicates that VAT is payable by the purchaser at the standard rate (presently 20%) on the hammer price as well as being an element in the buyer's premium. This imposition of VAT is likely to be because the seller is registered for VAT within the European Union and is not operating the Dealers Margin Scheme or because VAT is due at 20% on importation into the UK. The double symbol (**) indicates that the lot has been imported from outside the European Union and the present position is that these lots are liable to a reduced rate of VAT (5%) on the gross lot price (i.e. both the hammer price and the buyer's premium). Lots which appear without either of the above symbols indicate that no VAT is payable on the hammer price. This is because such lots are sold using the Auctioneers' Margin Scheme it should be noted that the VAT included within the Premium is not recoverable as input tax.
6. Descriptions and Conditions. Condition reports are provided on our website or upon request. The absence of a report does not imply that a lot is without imperfections. The detail in a report will reflect the estimated value of the lot, and large numbers of such requests received shortly before the sale may not receive a response to all lots. Members of staff are not trained restorers or conservators and, particularly for higher value lots, you should obtain an opinion from such a professional. We recommend that you always view a lot in person. We are, primarily, agents for the seller. We are dependent on information provided by the seller and whilst we may inspect lots and act reasonably in taking a general view about them we are normally unable to carry out a detailed or any examination of lots in order to ascertain their condition in the way in which it would be wise for a buyer to do. Intending buyers have ample opportunity for inspection of goods, therefore, accept responsibility for inspecting and investigating lots in which they may be interested. Please note carefully the exclusion of liability for the condition of lots contained in the Conditions of Sale. Neither the seller nor we, as the auctioneers, accept any responsibility for their condition. In particular, mechanical objects of any age are not guaranteed to be in working order. Additionally, in specified circumstances lots misdescribed because they are 'deliberate forgeries' may be returned and repayment made. There is a 3 week time limit. (The expression 'deliberate forgery' is defined in our Conditions of Sale).
7. Electrical goods. These are sold as 'antiques' only and if bought for use must be checked over for compliance with safety regulations by a qualified electrician first.
8. Export of goods. Buyers intending to export goods should ascertain (a) whether an export licence is required and (b) whether there is any specific prohibition on importing goods of that character because, e.g. they may contain prohibited materials such as ivory. Ask us if you need assistance.
9. Bidding. Bidders are required to register before the sale commences and lots will be invoiced to the name and address on the registration form. Some form of identification may be required if you are unknown to us. Please enquire in advance about our arrangements for telephone bidding.
10. Commission bidding. Commission bids may be left with the auctioneers indicating the maximum amount to be bid excluding buyers' premium. They will be executed as cheaply as possible having regard to the reserve (if any) and competing bids. If two buyers submit identical commission bids the auctioneers may prefer the first bid received. Please enquire in advance about our arrangements for the leaving of commission bids by telephone or fax.
11. Methods of Payment. The following methods of payment are acceptable. Debit Card drawn on a UK bank and registered to a UK billing address. There is no additional charge for purchases made with these cards. Overseas debit cards will be charged as per a credit card due to the charges levied by the card company. Bank transfer direct into our bank account, all transfers must state the relevant sale number, lot number and your bid / paddle number. If transferring from a foreign currency, the amount we receive must be the total due in pounds sterling (after currency conversion and the deduction of any bank charges). Ourbank details can be found on the front or your invoice. Sterling cash payments of up to £10,000 (subject to money laundering regulations). All major UK issued credit cards registered to a UK billing address with the exception of American Express and Diners Club. A surcharge of 3% is payable on all payments made by credit cards.
12. Collection and storage. Please note what the Conditions of Sale state about collection and storage. It is important that goods are paid for and collected promptly. Any delay may involve the buyer in paying storage charges.
13. Droit de suite royalty charges. From 1st January 2012 all UK art market professionals (which includes but is not limited to; auctioneers, dealers, galleries,agents and other intermediaries) are required to collect a royalty payment for all works of art that have been produced by qualifying artists each timea work is re-sold during the artist's lifetime and for a period up to 70 years following the artists death. This payment is only calculated on qualifying work sof art which are sold for a hammer price more than the UK sterling equivalent of EURO 1,000 – the UK sterling equivalent will fluctuate in line withprevailing exchange rates. It is entirely the responsibility of the buyer to acquaint himself with the precise EURO to UK Sterling exchange rate on the day of the sale in this regard, and the auctioneer accepts no responsibility whatsoever if the qualifying rate is different to the rate indicated. All items in this catalogue that are marked with δ are potentially qualifying items, and the royalty charge will be applied if the hammer price achieved is more than the UK sterling equivalent of EURO 1,000. The royalty charge will be added to all relevant buyers' invoices, and must be paid before items can be cleared. All royalty charges are passed on to the Designand Artists Copyright Society ('DACS'), no handling costs or additional fees with respect to these charges will be retained by the auctioneers. The royalty charge that will be applied to qualifying items which achieve a hammer price of more than the UK sterling equivalent of EURO 1,000, but less than the UK sterling equivalent of EURO 50,000 is 4%. For qualifying items that sell for more than the UK sterling equivalent of EURO 50,000 a sliding scale of royalty charges will apply – for a complete list of the royalty charges and threshold levels, please see www.dacs.org.uk. There is no VAT payable on this royalty charge.
14. ASA Guidelines. As per ASA guidelines we would remind all buyers that estimates do not include our buyer's premium at 24% (including VAT and anyother fees) and this should be taken into account when bidding.
ONLINE BIDDING
Henry Aldridge and Son Limited offers an online bidding service via the-saleroom.com and www.easyliveauction.com for bidders who cannot attend the sale. In completing the bidder registration on www.the-saleroom.com or www.easyliveauction.com and providing your credit card details and unless alternative arrangements are agreed with Henry Aldridge and Son Limited. You authorise Henry Aldridge and Son Limited, if they so wish, to charge the credit card given in part or full payment, including all fees, for items successfully purchased in the auction via the-saleroom.com or www.easyliveauction.com, and confirm that you are authorised to provide these credit card detailsto 'Henry Aldridge and Son Limited' through www.the-saleroom.com and agree that Henry Aldridge and Son Limited are entitled to ship the goods to thecard holder name and card holder address provided in fulfilment of the sale.
Please note that any lots purchased via the-saleroom.com live auction service will be subject to an additional 5% commission charge + VAT at the rate imposed on the hammer price. If you are using the www.easyliveauction.com platform it is subject to an additional 5% plus VAT levied by the provider or a £3 flat fee payable prior to bidding. Finally you can register via our own website www.henryaldridge.com and pay 3% plus VAT.
(2) You personally are not able to transfer a good and marketable title to us, you shall have no rights under this condition.
The right of return provided by this Condition is additional to any right or remedy provided by law or by these Conditions of Sale.
General
16. We shall have the right at our discretion, to refuse admission to our premises or attendance at our auctions by any person.
17. (1) Any right to compensation for losses liabilities and expenses incurred in respect of and as a result of any breach of these Conditions and any exclusions provided by them shall be available to the seller and/or the auctioneer as appropriate.
(2) Such rights and exclusions shall extend to and be deemed to be for the benefit of employees and agents of the seller and/or the auctioneer who may themselves enforce them.
18. Any notice to any buyer, seller, bidder or viewer may be given by first class mail or email or in which case it shall be deemed to have been received by the addressee 48 hours after posting.
19. Special terms may be used in catalogue descriptions of particular classes of items in which case the descriptions must be interpreted in accordance with any glossary appearing at the commencement of the catalogue.
20. Any indulgence extended to bidders, buyers or sellers by us notwithstanding the strict terms of these Conditions or of the Terms of Consignment shall affect the position at the relevant time only and in respect of that particular concession only; in all other respects these Conditions shall be construed as having full force and effect.
21. English law applies to the interpretation of these Conditions.
PLEASE NOTE: Payment is by Card or Bank transfer only NO CASH. Collections by Appointment ONLY.
Buyers Premium: The purchaser shall pay the hammer price together with a premium of 22% of the hammer price on lots costing £500,000 and below. For lots costing over £500,000.01 Buyers Premium will be charged at 20% on the first £500,000 then at 15% on the excess. The premium attracts VAT at the standard rate and is payable by all purchasers.
HMRC have decreed that VAT on buyer's premium is always payable whether the buyer is domiciled in the UK, the EU or outside the EU or wherever the goods are to be sent. So auctioneers cannot refund VAT on buyer's premium if the goods are sold under normal VAT rules.
Please Note: All Gold, Silver, Jewellery, Watch and Bullion Lots must be paid for by Direct Bank Transfer, Credit Cards and Not Accepted on These Lots.
Please note that any lots purchased via the-saleroom.com live auction service will be subject to an additional 5% commission charge + VAT at the rate imposed on the hammer price.
Please note due to the high number of attempted fraudulent card transactions that we have experienced recently, we will no longer be accepting payment over the phone by credit or debit card for over £250.